Otis A. Brumby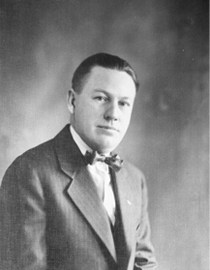 Otis A. Brumby. Although Otis A Brumby was never president of the Brumby Chair Co. started by his father in 1875, he was as active in the chair business as his newspaper career permitted. He served on the board of directors for many years and was named vice president in 1936. He was a strong right-arm to his last surviving brother Robert, who returned to Marietta in 1938 to head up the chair factory during the difficult war years.
Otis Anoldus Brumby was born in Marietta on July 6, 1889, the fourth son of Mariah Louise Bates and Thomas M. Brumby. He attended Marietta High School and graduated from Tulane University in New Orleans in 1911, majoring in Architectural Engineering. At Tulane he was editor of the yearbook, Jambalaya, and a member of the Kappa Alpha fraternity.
In New Orleans, his health failed and a doctor friend recommended he spend a year in Florida. Having relatives in St. Petersburg, he obtained an engineering job there. When the job ended, he met the business manager of the St. Petersburg Times, a semi-weekly publication, who offered him a job, first as a collector, then on the telegraph desk. When the paper went daily, he purchased a part interest and at 23 years old, he was the night editor when the Titanic story broke.
With ink in his blood, Otis sold his interest in the St. Petersburg Times and returned to Marietta in 1916 and founded the Cobb County Times and later Brumby Press, a commercial printer for trade publications. He remained publisher of the Cobb County Times until a heart attack forced him to retire to Pass-A-Grille Beach, Florida, in 1945. His heart was severely damaged, partly because he received no pain medication for several days at the old Marietta Hospital when a nurse substituted salt tablets for morphine.
In 1936, he married Elisabeth Dobbs of Woodstock and they had two children, Otis A. Brumby, Jr. and Bebe (now Mrs. Earl T. Leonard, Jr. of Atlanta). During his newspaper years, the Cobb County Times became nationally known and consistently garnered many of journalism's top awards. In 1951, the Cobb County Times merged with the Marietta Journal, and he was named chairman of the board of the new organization until his death in 1953.
In 1941, he was elected president of the Georgia Press Association and in 1944 he was elected to the Georgia House of Representatives. He was a member of the Cobb County Board of Education, and upon the death of F.T. Wills in 1944, he was named county school superintendent until an election could be held. Since the school board had no retirement plan, he gave his superintendent's salary to Mr. Wills' widow, and in 1966 the school board named a new school on Powers Ferry near Terrell Mill Road the Otis A Brumby Elementary School in his honor.
During his newspaper career, Otis Brumby was widely known for his lively column - Jambalaya - named for the spicy Creole dish he became acquainted with in New Orleans. He was a delegate to the Democratic National Convention which nominated Franklin Deleno Roosevelt for president in 1932. He was a charter member and later president of the Marietta Rotary Club in 1933.
After his death in 1953, Ralph McGill, editor of Atlanta Constitution, wrote, "...he had courage. Some years ago when a small detachment of the Ku Klux Klan got out of hand and burned a Negro church near Marietta, Otis had a fine column. The heading of it read, 'You yellow rats,' and that was the gentlest part of it. He led the campaign which rebuilt the church..."